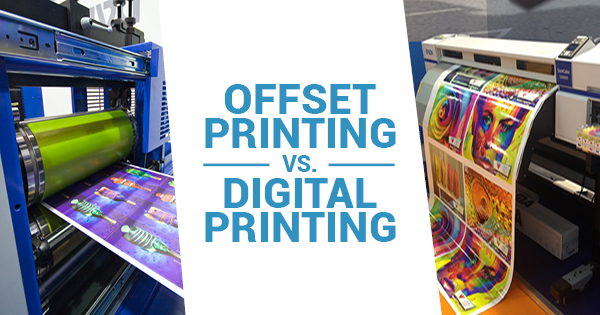 Printing has drastically changed over the years. It has been through technological advancements just like everything else in the world. From the traditional offset printing down to digital, it can't be denied that printing is one of the most changed industries. The advent of digital machines has brought printing into a whole new level given the fact that printing is one of the most in-demand businesses today.
Is print on demand still the king or has offset stolen the crown already? Before we give the verdict, let us first take a look at some important points of both concepts.
Definition
Offset Printing. Offset in a printing system or technology is for a larger number of published materials such as books, business cards, magazines, and posters among others. It requires a minimum of 500 units in order for the process to proceed. The initial cost is more expensive but in the long run, it can help lessen the expenses since the price that you are paying is based on the number of copies that you will order. 
Print-On-Demand. As the term implies, Print-On-Demand or POD is a digital printing system or technology wherein different publications are printed according to the needs or demands. This means that the number of copies that will be printed depends on how many copies are needed. 
Cost
Offset Printing. When it comes to Offset, the printing company requires a setup fee in order to accept the project. This is very ideal for print marketing materials for businesses or established authors since it is very cost-effective in the long run. The cost of offset printing depends on the number of copies ordered. This means that the more copies you order, the lesser the price.
Print-On-Demand. The cost of POD printing is based on a per-cover charge in addition to a per-page charge. There is no or minimal setup fee needed, what you are going to pay is based on the number of pages and the number of books that you will print. This gives authors the opportunity to have the number of copies based on the budget that they have. 
Storage
Offset Printing. Offset printing needs a storage room or warehouse where you can stock or store all the printed copies until every single one of them is distributed. You will need a place that is temperature-controlled to avoid damaging the prints.
Print-On-Demand. Storage is not a problem when it comes to print-on-demand since you are ordering a specific number of copies which you will distribute. You don't have extra copies with you which requires you to store them until all copies are circulating since you are only printing based on the demands of the book or any other published material. This also means that no copy will be wasted.
Revisions
Offset Printing. Offset printing does not give you the freedom to revise anything from the design once printed not unless you order another batch of copies. Just the thought of finding out one mistake on the book once printed is already a headache since you no longer can change it and it will add up to your expenses if you are to reprint or order another batch. 
Print-On-Demand. Print-On-Demand allows you to do as many revisions as you want on each copy or batch. At times, it even allows you to personalize the copies. In case you found a mistake on a copy, you can just revise it on the next copies which will save you a lot. 
Colors
Offset Printing. With offset printing, printing the colored and black and white pages separately are allowed. Then you just have to insert the colored pages accordingly before binding.
Print-On-Demand. If there are pages in your books that require to be printed in color, you will be paying as if every page in your book is colored. This will increase your expenses. 
Advantages and Disadvantages
Print-On-Demand 
Advantages
No up-front be required regardless of the number of copies. 
You can update or revise the manuscript as needed.
Cheaper and more convenient local and international distribution.
No stocks at hand thus no storage is needed.
Disadvantages
It is not ideal for a large volume of copies since it will cost more.
The cost of each copy is relatively higher.
Most of the time, the copies are not returnable. 
Offset Printing
         Advantages
It is more cost-effective for a higher volume of copies since the more copies you order, the lesser is the price for each unit.
Works on different printing surfaces which means that you can use it for different purposes.
It offers a variety of customizable sizes and colors in which you can choose yourself in accordance with the needs of your book.
The ink flow is more controllable which avoids lighter and heavier prints.
It offers high-quality images due to the printing process. 
         Disadvantages
An up-front fee is required.
It has a longer turnaround since the minimum number of copies is so much higher.
Updating or revising is often impossible or expensive.
THE VERDICT
Print-On-Demand and Offset Printing both have their own set of pros and cons. There are cases where Print-On-Demand is more ideal, whereas, in other situations Offset printing is much more convinient and affordable. It really all comes down to the client's needs.
Favoring one technic over the other would be biased because their differences make them as unique as their purpose. Which is better among them is a personal preference and it all depends on the publisher's needs or business objectives. 
Author's Bio
Clarence Mckinney is an Australian self-publishing specialist who has been in the field for more than 10 years. He owns a marketing technology company that offers different services ranging from mailing, printing, and so much more. His company is recognized as the best printing business card in Singapore. In his leisure time, he travels with family or just stays at home and reads books.